Oil prices have surged past $100 (£74) a barrel after Russian President Vladimir Putin launched a "special military operation" in the eastern Donbas region of Ukraine.
These are the highest levels seen by the international benchmark Brent crude futures in more than seven years. Prices jumped earlier this week before cooling amid economic sanctions and moves to block a Russian gas pipeline.
Russia is the second biggest exporter of crude oil after Saudi Arabia. It is also the world's largest natural gas exporter. Russia is a key supplier of energy to global customers, with Europe relying on the nation for about a quarter of its oil supplies and a third of its gas.
The escalation spooked a market that was already under stress, as oil supplies around the world fail to keep pace with the vigorous recovery in demand from the pandemic. The OPEC+ coalition led by Saudi Arabia is struggling to restore production quickly enough, prompting some of the biggest market players to warn of an increasingly tight market.
"A further escalation has pushed prices to the $100-a-barrel mark," said Warren Patterson, head of commodities strategy at ING Groep NV. "The oil market will now wait to see how Western nations respond to Russia's latest actions. As a result, we will likely see even further volatility in the market, as well as the need to price in a larger risk premium."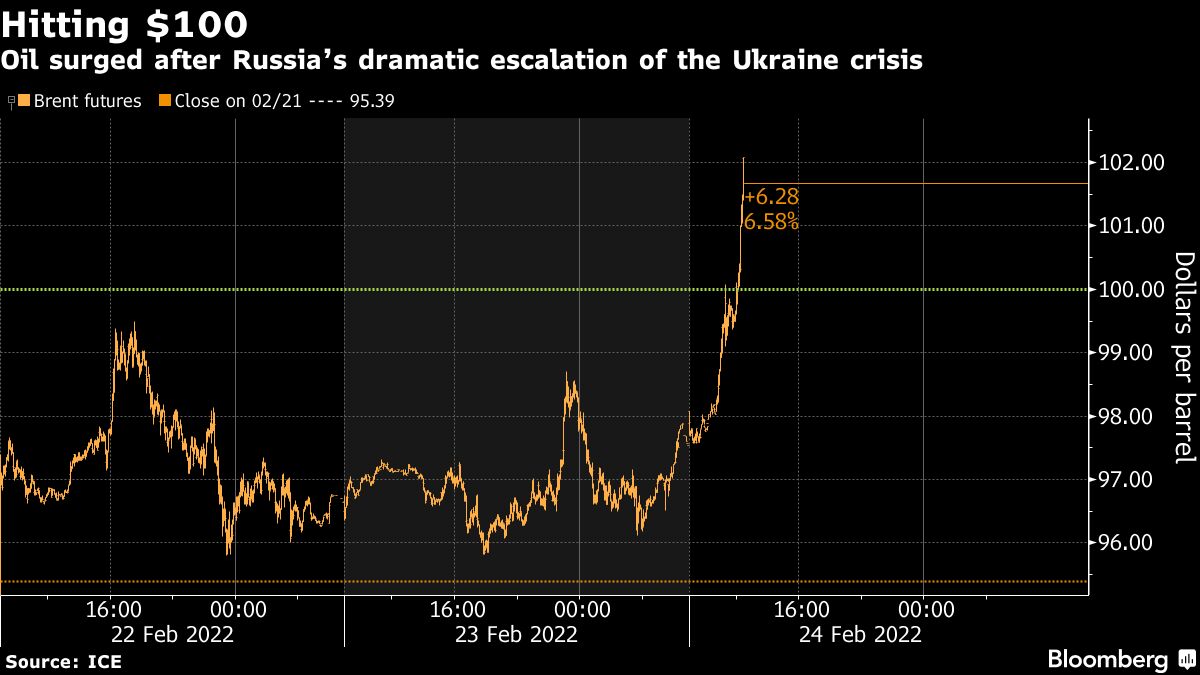 Oil prices are likely to average $110 in the second quarter as tensions over Ukraine continue to escalate, JPMorgan Chase & Co. said this week before the latest escalation. The crude market is likely to see sustained higher prices in the next quarter, before retreating to average $90 at the end of the year, according to the bank.
The US, UK and some of their allies have also imposed a series of sanctions on Russia in response to Mr Putin's actions against Ukraine.
The UK has frozen the assets of five banks and three Russian billionaires, who have also been hit with travel bans.
On Tuesday, Boris Johnson said these sanctions were a "first barrage" and could be extended.
"The moves by Russia suggest economic sanctions are not having any significant impact in holding off aggression," said Yeap Jun Rong, a market strategist at IG.
"With retaliation measures coming from Western powers soon, it seems that the situation may show no signs of easing," he added.