U.S. President Joe Biden and his Chinese counterpart Xi Jinping spoke for the first time since the U.S. election.
According to a White House statement, Biden raised his "fundamental concerns" about Beijing's "coercive and unfair economic practices, crackdown in Hong Kong, human rights abuses in Xinjiang, and increasingly assertive actions in the region, including toward Taiwan."
Xi defended China's policies as matters of sovereignty, but told the US leader confrontation would be "a disaster", and called for the two sides to re-establish the means to avoid misjudgments, according to state media.
The call came just hours after the announcement of Biden's establishment of a Pentagon task force on China and a senior state department official meeting in person with Taiwan's representative to the US.
The statement said the two leaders also discussed countering the Covid-19 pandemic, and "the shared challenges of global health security, climate change, and preventing weapons proliferation."
Officials said Biden also planned to express his hopes the two leaders could cooperate on issues such as nuclear nonproliferation and climate change.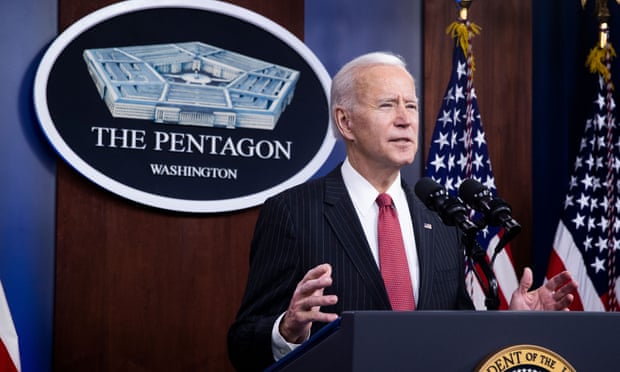 The call between the leaders of the world's two largest economies, coming three weeks after Biden's inauguration, follows a review of core elements of U.S. policy toward China during the Trump administration and extensive consultation with America's allies, the officials said. One of them described Biden as now "in a strong position" to have a substantive conversation with Xi.
Biden's administration is reviewing sanctions and tariffs imposed by Trump, but has said it will continue a tougher line than that held during Obama's term. It has elevated the decades-old six assurances made with the island's government to the same level as the three communiques outlining China-US relations, and the Taiwan Relations Act which requires the US provide material support to Taiwan for its self defense.
China's military has reacted aggressively. Late last month it sent more than a dozen fighter jets, bombers, and reconnaissance planes into Taiwan's air identification zone on two consecutive days, far more than the usual sorties of two or three aircraft sent on a regular basis in the past year. It was widely interpreted as a message to the newly inaugurated Biden.