Sterling's surge to pre-Covid-19 highs against the U.S. dollar Wednesday, when GBP/USD hit 1.3268 according to FactSet, may not happen again, says ABN Amro. The Dutch bank expects GBP/USD to fall as investors switch to a greater focus on Brexit uncertainty and weaker U.K. data, combined with a less negative sentiment towards the dollar, says Georgette Boele, senior foreign exchange strategist at ABN Amro. "It is likely that these moves will be temporary in nature and be an opportunity to position for dollar weakness next year," she says. Sterling is last flat at $1.3104.
The fiscal picture is clearer now than before in the eurozone but the path of the economic recovery is still uncertain, say SEB's economists. "All in all, the balance of risks to the euro area growth outlook remains skewed to the downside," say fixed income and FX strategist Lauri Haelikkae and economist Marcus Widen. "Plenty" of new hard data will be available before the next European Central Bank monetary policy meeting on Sept. 10 when new staff projections will be also released. "Increasing Covid-19 infections and the elevated risk of re-introduction of lockdown measures however keep the economic outlook very uncertain despite the recent recovery," they say.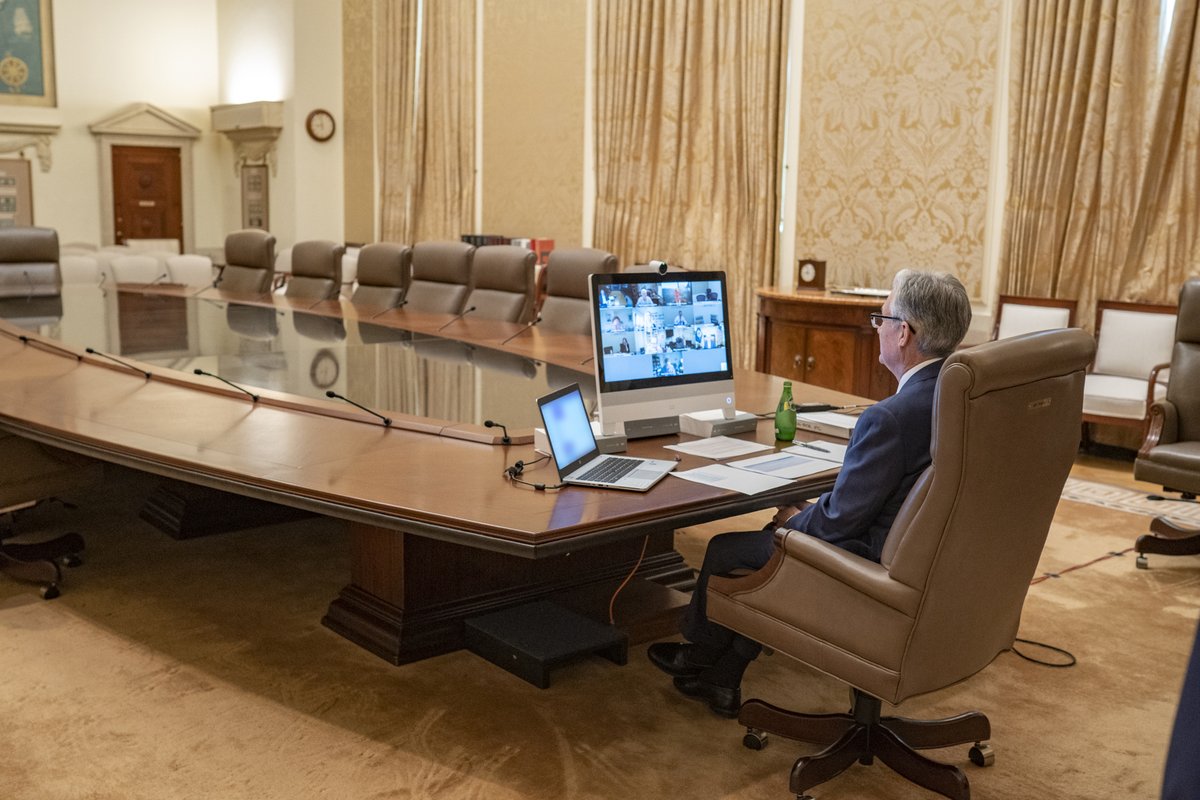 The big foreign exchange adjustment in the coming months, and years, will be further dollar weakness, with euro strength being relatively incidental and unwelcome, says Societe Generale's Kit Juckes. Minutes from the U.S. Federal Open Market Committee released Wednesday moderately lifted the U.S. dollar, as they showed "a clear indication that higher inflation will be tolerated and perhaps, an indication that a move to yield curve control is close," he says. Still, the question is whether "we will finally get a more meaningful risk-averse move, and higher volatility, in thin, illiquid markets, boosting the dollar, he says.
The U.S. Labor Department reported that Initial Jobless Claims rose to 1.106 million for the week ended August 15 (920,000 expected), and Continuing Claims declined to 14.844 million for the week ended August 8 (15.000 million expected). The Conference Board Leading Index increased 1.4% on month in July (+1.1% expected).
Due later today are Markit U.S. Manufacturing Purchasing Mangers' Index (August preliminary reading at 52.0 expected), and Services PMI (51.0 expected), and Existing Home Sales (a rise in annualized rate to 5.40 million units in July expected).
Dollar, EURUSD, S&P 500 Talking Points by DailyFX:
👉 US stocks climbed back into green on the tech rally despite the stalling labour market, where more than one million Americans filed for jobless benefits last week. The Dow Jones Industrial Average added 46 points (+0.17%) to 27739, and the S&P 500 was up 10 points (+0.32%) to 3385. The S&P 500 added 0.32% and the Nasdaq hit another record high. European and Asian benchmarks decreased.
👉 The US dollar index (USDX) failed to continue the recovery and turned lower to 92.75, while the 10-year Treasury yield fell to 0.65%. USD/JPY declined to 105.79.
👉 EUR rose to 1.1861 despite the rising infection cases. The ECB will wait until the September meeting to reassess the monetary policy stance and its policy tools. The outperformer GBP surged above 1.32 with little news from the Brexit trade talk. European stocks returned to negative territory. The Stoxx Europe 600 Index fell 1.07%, Germany's DAX 30 dropped 1.14%, France's CAC 40 slid 1.33%, and the U.K.'s FTSE 100 was down 1.61%.
👉 GBP/USD bounced 0.9% to 1.3218. Later today, U.K. retail sales for July (+2.0% on month expected), Markit Manufacturing PMI (54.0 expected) and Services PMI (57.0 expected) for August will be reported. USD/CAD fell 0.3% to 1.3179. Investors will focus on Canada's June retail sales data due later today (+24.5% on month expected).
👉 AUD erased the initial losses and closed just above the flat 10-day EMA at 0.7190. NZD closed lower at 0.6535 despite the USD weakness, with AUD/NZD rising above 1.10 handle. AUD/USD climbed 0.2% to 0.7196 while NZD/USD lost 0.3% to 0.6535.
👉 Gold recovered to $1946.59. China and the US planned to reschedule the trade talk. Silver regained $27. WTI crude (XTIUSD) edged lower to $42.46 on concerns of slow recovery of oil demand.
Here are the High Impact Economic events expected today:
As we have observed earlier in the
Currency Monitoring Chart
, we discovered that
AUD/USD
lines are separated with the farthest distance.
The following is
NZD/JPY
looking at 4 hour chart:
INTRADAY MARKET INSIGHTS
USD/JPY Intraday:

Towards 105.30. The pair keeps trading within a bearish channel while testing the immediate support at 105.60. It remains capped by the descending 20-period moving average, which stands below the 50-period one. Therefore, the technical configuration is still very bearish, and the pair should target 105.30 after crossing below 105.60. Key resistance is located at 105.95.

EUR/USD Intraday:

Further advance. The pair continues a rebound from a low of 1.1801 yesterday. Currently it has reached the upper Bollinger band calling for acceleration to the upside. And the relative strength index is well directed in the 60s, suggesting continued upward momentum for the pair. Unless the key support at 1.1840 is breached, the pair should target 1.1895 and 1.1915 on the upside.

AUD/USD Intraday:

Further upside. The pair posted a rebound and struck to the upper Bollinger band. Besides, the golden cross between 20-period and 50-period moving averages has been identified, indicating a bullish signal. To sum up, as long as 0.7175 holds on the downside, expect a rise with targets at 0.7220 and 0.7240 in extension. Alternatively, a break below 0.7175 would bring a return with 0.7150 and 0.7130 as targets.

NZD/USD intraday:

Rebound. The pair rebounds and challenges the 50-period moving average. In addition, the 20-period moving average is turning up. The relative strength index crosses above the neutrality level at 50. To conclude, as long as 0.6512 is not broken, expect a rebound with targets at 0.6562 and 0.6575. Alternatively, crossing below 0.6512 would open a path to 0.6490 on the downside.

GBP/USD Intraday:

Further advance. The pair is holding on the upside after yesterday's upward acceleration. The rising 20-period moving average should push the prices higher. To conclude, as long as 1.3185 acts as the key support level, we anticipate a further advance with targets at 1.3230 and 1.3265 in extension. On the other hand, a break below 1.3185 would call for a return with 1.3160 and 1.3130 as targets.

USD/CHF Intraday:

Towards 0.9040. The pair is under pressure below the declining 20-period moving average. The relative strength index is heading downward, suggesting the downward momentum for the prices. In this case, unless the resistance level at 0.9090 is violated, the pair should sink to 0.9060 and even to 0.9040 in extension. Alternatively, crossing above 0.9090 would bring a rebound with 0.9110 and 0.9125 as targets.

USD/CAD Intraday:

Under pressure. The pair remains on the downside as it has broken below its previous trading range. In fact, the 20-period moving average has crossed below the 50-period one, and the relative strength index has dropped to the 30s, suggesting a bearish bias. Unless the key resistance at 1.3195 is surpassed, the pair should proceed to 1.3155 and 1.3130 on the downside. Alternatively, above 1.3195, expect a rebound to 1.3215.

EUR/JPY Intraday:

Towards 126.07. The pair has rebounded after reaching the lower boundary of a bearish channel drawn from August 14. Currently, support is provided by the 20-period moving average, while the relative strength index stays in the 50s, signaling a bullish bias. Above the key support at 125.14, expect an advance to 125.89 and 126.07. Alternatively, a break below 125.14 would trigger a drop to 124.83.

EUR/GBP Intraday:

Rebound. The pair has stabilized after reaching the day-low of August 11. In fact, it is heading up to challenge the 20-period moving average, while the relative strength index shows upward momentum. As long as the key support at 0.8954 holds, the pair should rebound to 0.9004 and 0.9016. Alternatively, a break below 0.8954 would open a path to 0.8933 on the downside.


©️Newswires